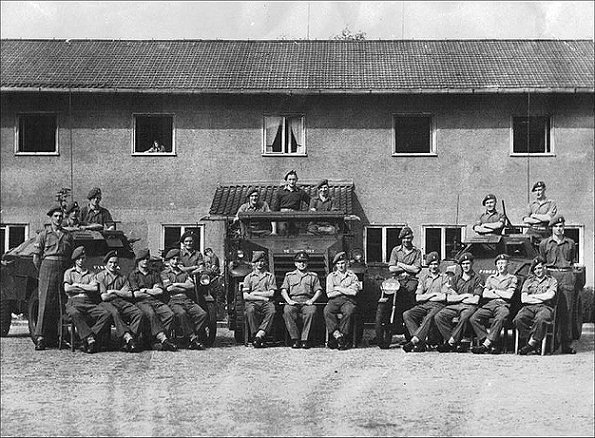 1st Battalion Worcestershire Regiment Signals Platoon (1948)
Seated on the front row left to right :- Morgan, Harry Davies, Len Brat, Cpl. Don Bignall, Cpl. Chuck Tovey, Lieut. E. B. Wilson, Sgt. Ginger Worsfold, Cpl. Sam Hill, George Price, Ginger Lester and Vic Ballard.
Second row:-(Standing) Giles, (on motorbikes) Jock Clark and Jack Walker, (Standing) Jeff Goodwin.
In First Humber Scout:- an MT Driver & Beach, in White Scout:- Jones, Dickie Smullen, Everingham in Right Humber Scout an MT Driver & Ken (Chick) Fowell.
photo submitted by Ex-Signaller Ken Fowell (19160007)
Ken served in the 1st Worcesters from 1947 to 1949 mainly in Berlin during the air blockade