History of the 29th (or Worcestershire) Regiment of Foot 1694 to 1891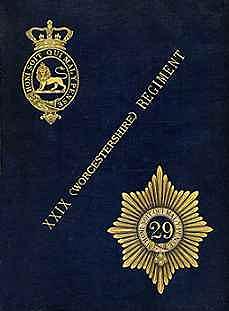 By Major H. Everard
Published by Littlebury & Company, The Worcester Press

Published 1891

This book which was published in 1891 (598 pages) provides a full history of the 29th Regiment of Foot which was later designated the Worcestershire Regiment. The Regiment was raised in 1694 by Colonel Thomas Farrington of the Coldstream Guards and at that time was known as Farrington's Regiment of Foot.

This book provides a full record of the actions and activity of the Worcestershire Regiment from 1694 to 1891, including details of where the Regiment was stationed with detailed lists of officers. The book also provides details of the 2nd Battalion from 1795. Information on the Regimental Depot is also included.

Throughout the book reference is made to the Regimental dress and uniform with details of badges and insignia.

The Appendix includes a full roll of Officers and Regimental Agents from 1694 to 1890. In addition there is a alphabetical list of officers, giving a short account of their military service up to the time of their leaving the Regiment.

Regimental music manuscripts for the 29th Regimental Call, Slow March (composed by H.R.H. The Duchess of Kent), Quick March ("Royal Windsor") and the Regimental Double March.