Lieut.-General William Evelyn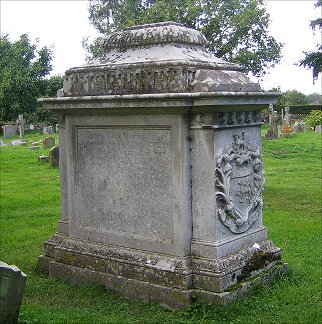 Appointed Colonel of the Regiment on 3rd November 1769.
William Evelyn was born on the 10th February 1723 at Wotton, Surrey, England. Son of Sir John Evelyn, 1st Bart of Wotton and Anne Boscawen.
He was commissioned into the Coldstream Guards (2nd Regiment of Foot Guards) on the 17th July 1739 as Ensign. Promoted to Lieutenant on the 16th April 1744.
On the 27th August 1754 he was promoted Captain-Lieutenant, with the rank of Lieut.-Colonel of Foot.
Gained the rank of Captain on the 24th March 1755, 2nd Major on the 20th August 1762 and 1st Major on the 23rd December 1763.
On the 3rd November 1769 he transferred from the Coldstream Guards and was appointed to the colonelcy of the 29th Foot Regiment a position he held until his death in 1783.
On the 3rd April 1770 he was promoted to the rank of Major-General and on the 29th August 1777 to Lieut.-General.
Lieut.-General William Evelyn died on the 13th August 1783. In the churchyard of St. Mary and Virgin, Send, Surrey, is a handsome sarcophagus with the following inscription: "Sacred to the memory of Lieut.-General William Evelyn, Colonel of the 29th Regiment of Foot, fourth son of Sir John Evelyn, Bart., of Wotton, in this county. He sat two Sessions in Parliament for Helston, in the county of Cornwall, by the friendship of Lord Godolphin, and departed this life looking forward to, and trusting in a better, the 13th day of August, 1783. Aged 60."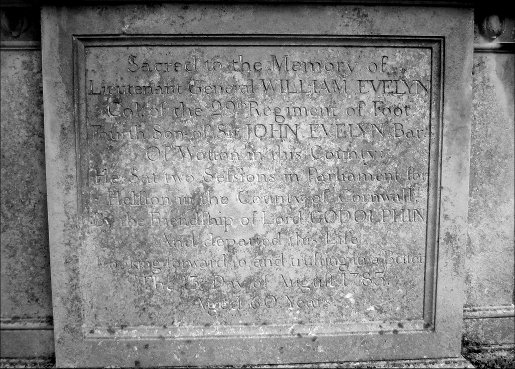 Inscription on the sarcophagus grave of Lieut.-General William Evelyn