1st Battalion Worcestershire Regiment - Cheux 1944
Early on the morning of the 27th June 1944, still in darkness at 02.00 hours, a Recce party headed towards Cheux. It had been raining heavily all night. The route forward was along a secondary track through Bronay and Le Mesnil-Patry. It was very narrow in places and there were patches of deep mud making it almost impossible for the mortar officer Captain Jock Bannister and others to keep going on motor¬bikes. Bronay was desolate and Le Mesnil-Patry badly knocked about.
Short of Le Mesnil-Patry the roads became practically obliterated and what had been the forward positions of the Canadians were passed through. Hereabouts the rather discomforting sight of the number of our Sherman tanks blown up or burnt out became obvious. As was to be learned later, there was a very extensive minefield in front of the Canadians, which had not been discovered, and when the attack of the 15th Scottish went forward they and the tanks accompanying them suffered heavy casualties as a result. Just south of Le Mesnil-Patry the road became completely obliterated. A path forward through the minefield had been taped but whether it was the original road or not it was impossible to say. A large number of tanks were milling about and other vehicles moving forward between the tapes.
Just before dawn the rest of the battalion moved forward, carried on 'F' Echelon transport. The battalions' orders were now to take up positions left of Cheux (taking over from the Glasgow Highlanders). The 5th D.C.L.I. were on the right in Le Haut-du-Bosq down to and including the Church in Cheux.
Cheux was a small village consisting of one Street and roads leading out North, South, East and West. It was in a hollow with big open country showing itself beyond. The only roads towards the enemy positions led through the village and accordingly it was given special attention by enemy mortars. Not a building was whole and most of them were knocked to pieces. The narrow roads were littered with equipment of all sorts and in the centre of the village were wreckages of British trucks and tanks, some still burning.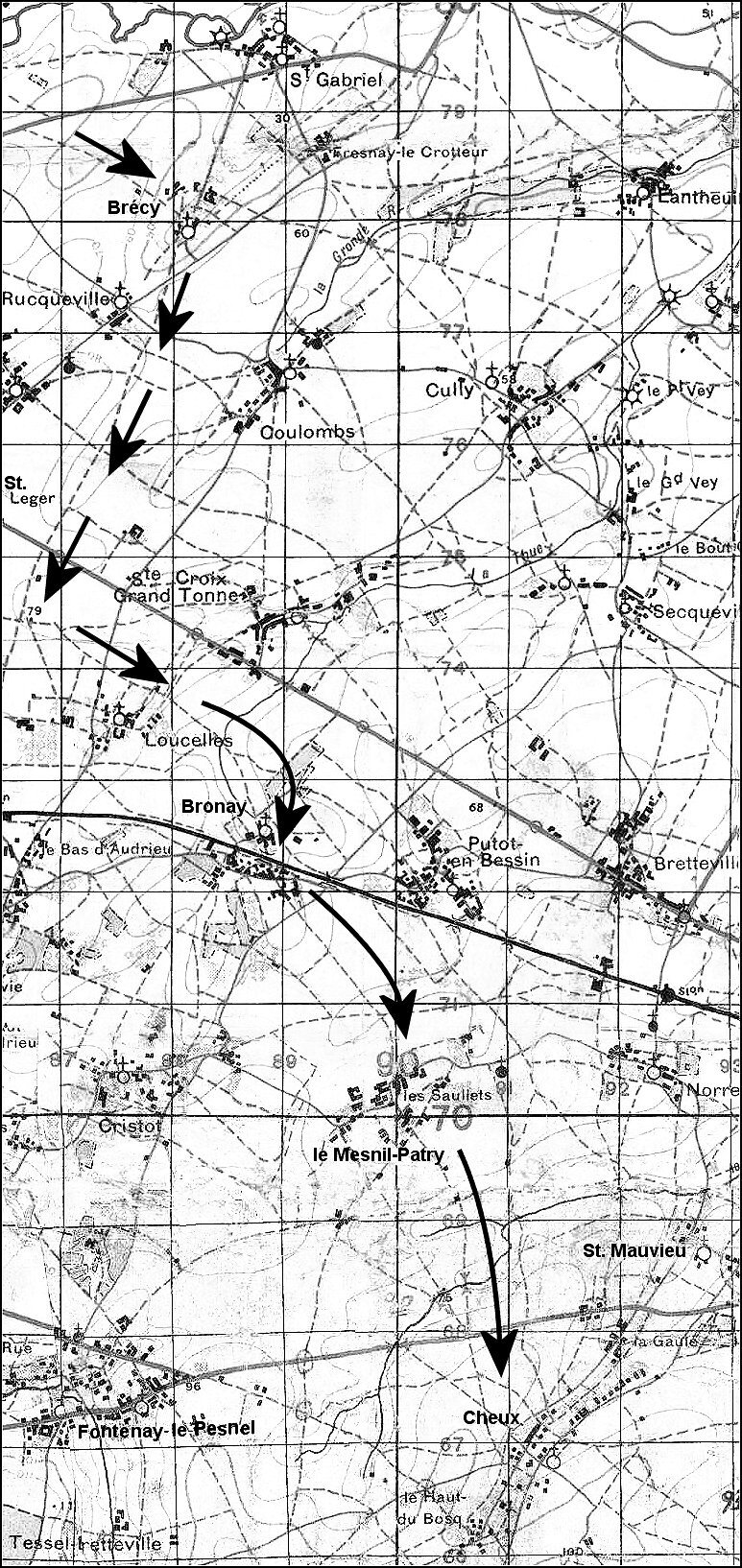 Battalion route from Brécy to Cheux

At an 'O' Group arrangements were made for the Battalion to take-over positions around Cheux. 'B' Company right, 'A' Company left, both just forward of the village, 'C' Company right and 'D' Company left rear of village. This split the Battalion but the small village itself was getting very heavy attention from the German mortars and artillery, and odd vehicles trying to get through and round to the right to Le Haut-du-Bosq were repeatedly hit and brewing up. Some of this fire was coming from Carpicquet aerodrome.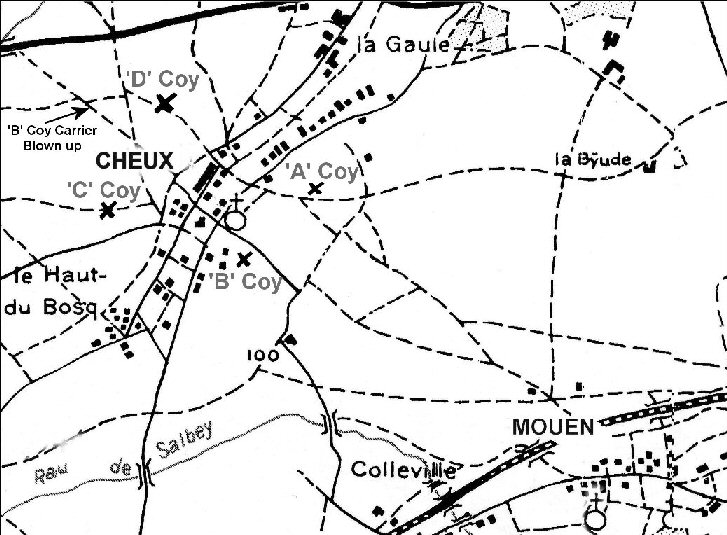 Company postions and location of 'B' Company Carrier
As 'B' Company moved forward its Bren Gun Carriers, carrying seven men and fully loaded with ammunition, blew up killing four men including the driver Private Atwood and Private Tuck who was Major Grubb's Batman. Somehow the ammunition had caught alight from overheating.
The take-over was complete by mid-morning but shortly afterwards a runner arrived at Battalion H.Q. to say that all the officers of 'A' Company were killed. Apparently Major Riddle had got his Company in and was holding a short co-ordinating conference when a bomb fell amongst him and his officers whilst moving from one slit trench to another. He and Lieut. Pat Hulme were killed outright and Captain Dingley and Lieut. Wye seriously wounded, both dying shortly afterwards. The C.S.M. of the Company had been left out of battle (L.O.B.) and the Senior Sergeant (Sergt. Dalloway) immediately took over command on his own account and finished the consolidation of the Company in a most efficient manner. For this he was recommended for the M.M.

'A' Company Officer - 1st Battalion Worcestershire Regiment
Lieut. David Wye, Capt. Dingley, Major Riddle, (Batman), Lieut. Pat Hulme
Captain Peter Roose, commanding Support Company, and Lieutenant Keith James, a subaltern in 'B' Company, were taken from those Com-panies and took over command and second-in-command respectively of 'A' Company forthwith.
Thus the Divisional policy of leaving a certain number of officers and men out of battle was justified, but in this case Battalions had been allowed to take in all their officer personnel to get battle experience, as it was stated that there would not be any great opposition. The requisite L.O.B.s were to be withdrawn after twenty-four hours. The lesson of always having a reserve on all occasions and always expecting the unexpected was thus early learned and thereafter there was always a high proportion of officers and senior N.C.O.s who were L.O.B.
The C.O. of the Field Regiment, Lieut.-Col. Pethick, was wounded in the leg at Battalion H.Q. when a sharp dose of mortar fire landed. They were dug in where the previous H.Q. had been, and it soon became clear that this was an extraordinarily bad site as it was the entrance into the village and therefore received considerable attention from the Boche mortars. The following day a move was made about 300 yards further back towards 'C' Company.

During the day the enemy brought down a lot of mortar fire of all sorts on Cheux village and the outskirts. A considerable number of casualties were suffered one of whom was Lieutenant Kendall, the Pioneer Officer, who was hit in the face.

That night 'D' Company, commanded by Major Peter Weston, had its first experience of the treachery of the Hitler Jugend. On one occasion a German soldier was seen coming cautiously towards a Platoon locality with his hands up above his head, but when he got quite close he suddenly threw a grenade which luckily did not do any damage, and the only loser was the man himself, who was immediately shot.

Track on which 'B' Bren GunCarrier blew-up – village of Cheux behind camera
Entering the village of Cheux on the 27th June 1944 (IWM B6039)

Later still another two came in in the same way and, just as one of 'D' Company was getting out of his slit to pull them in and search them, a Spandau opened up from about 200 yards off. Again the only losers were the enemy.

The Cheux still held a number of German snipers who were very active and difficult to locate. As was found out repeatedly later, whilst these men were very brave and quite prepared to stay behind by themselves for days hiding in chimneys and trees, nevertheless they were extremely bad shots and the number of casualties received from them was small, but their nuisance value, particularly early on, was great.

The following day was spent in the same positions. The Battalion was worried by mortar fire all day long, but casualties were less as everyone had now dug in and had learned to stay below ground. Feeding was on the compo pack consisting of tinned food, tea and chocolate, which was admirable for these conditions as it enabled two men to look after themselves for twenty-four hours in a slit trench.

At this time it was very difficult to get any counter mortar fire as the position forward towards Mouen, a village on the reverse side of the rising ground to the battalions' immediate front, was vague.
The 7th Somerset Light Infantry were eventually passed through the 1st Worcesters on to the rising ground in. They having become established, allowed the 1st Worcesters to withdraw into a slightly healthier position in the area of 214 Brigade H.Q. (halfway between le Mesnil-Patry and Cheux). However, no sooner had they got back there than orders were received that the Brigade was to attack and capture the village of Mouen which had resisted attacks by two other Battalions within the past two days. This village lay about one and a half miles ahead of Cheux beyond the rising ground occupied by 7th Somerset L.I. These orders came through in the late afternoon and Brigadier Essame with the Lieut.-Col. Harrison (1st Worcesters C.O.) and Major Alexander (the Battery Commander) went forward on a reconnaissance to plan the attack, but could not find the Battalion in another Division which was supposed to be on the right, south-east of Le Haut-du-Bosq, and could give some information of enemy dispositions in Mouen. No trace could be found of it although the search went on until dusk when the Brigadier decided no more could be done. As the party were going out of one field a bullet fired at close range hit the radiator of Major Alexander's jeep and put it out of action. The Brigadier's truck had already pulled out and the occupants did not hear the shot or see what had happened. Major Alexander got away unscathed.
The Brigadier decided that the information, both as to the enemy in front and our own troops on our right, was so vague that he would not commit the Battalion which meantime had been ordered to a forward R.V., just in front of Cheux, where they were dug in in shallow slit trenches, in the open but on a reverse slope. They had kept away from the close country just on the right because, from the experience of holding the village during the previous three days, 'A' Company knew that the close stuff was an enemy D.F. task. This is mentioned as, when the attack went in later, the enemy D.F. fire came down on the 7th Somerset Light Infantry H.Q., which was in that close country. They suffered exceedingly heavy and grievous casualties.