The Worcestershire Regiment (Famous Regiments)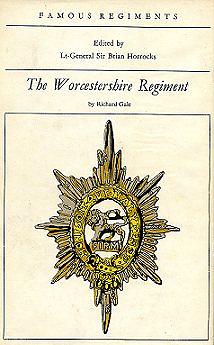 By Richard Gale
Edited by Lieut.-General Sir Brian Horrocks
Published by Leo Cooper Limited, London.

ISBN 0-85052-031-2
Published 1970

This history is written by General Sir Richard Gale who was as a young officer commission into the Worcestershire Regiment in 1915.

This book is part of a series of the 'Famous Regiments' series published by Leo Cooper and summaries the history of the Regiment from is formation by Colonel Farrington through to the end of December 1969 which was the last time it was to march as the 29th Regiment before it was amalgamated with the Sherwood Foresters (45th Regiment) in 1970.

Details of Charlemont's Regiment in Cadiz and the West Indies are covered and there are sections on the Spanish Wars and the Boston Trials. On chapter covers the Glorious 1st of June in 1794 with another chapter on the Peninsular War.

The Sikh Wars are also covered giving details of the 29th Regiment involvement. The final chapters cover both the Great War (World War 1) and the Second World War.

Photographs and copies of painting enhance the story.