Colonel Charles Stanhope The Earl of Harrington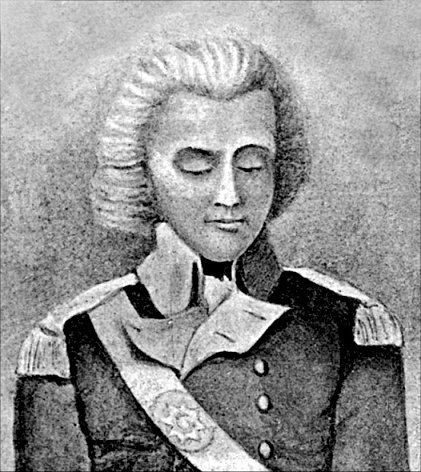 Appointed Colonel of the Regiment on 1st January 1788.
Born on 17th March 1753, as Charles Stanhope, the son of William Stanhope, 2nd Earl of Harrington and Lady Caroline Fitzroy. He married Jane Fleming on 23rd May 1779 in London. She was the daughter of Sir John Fleming (1st Baronet Fleming of Brompton Park).
Charles Stanhope as Viscount Petersham, was appointed Ensign in the Coldstream Guards on the 3rd November 1769. On the 26th July 1773 he was promoted to Captain in the 29th Foot (Light Infantry Company); early in 1776 he exchanged to the Grenadier Company, with which he served at the relief of Quebec.
In 1777 he accompanied General Burgoyne's Expedition from Canada, and commanded the 29th Grenadiers in the affair of Hubberton; On 12th July 1777, he was appointed Supernumerary aide-de-camp to General Burgoyne at Saratoga, with whom he served the remainder of the campaign.
On the 16th January 1778, he was appointed Captain and Lieut.-Colonel of the 3rd Foot Guards. In April 1779 he succeeded to the Earldom of Harrington and became the 3rd Earl of Harrington.
On the 30th August 1780 he raised, and was appointed Lieut.-Colonel, Commandant of 85th Foot, and embarked with the Regiment for Jamaica. He was promoted Colonel on the 20th November 1782 (this Regt was lost in 1883 whilst on passage home).
On the 12th March 1783 he was appointed Colonel of the 65th Foot, from which, on the 29th January 1788, he was transferred to the Colonelcy of 29th Foot Regiment.
In December 1792 he was transferred to the Colonelcy of the 1st Life Guards.
Promoted to Major-General on the 12th October 1793 and to Lieut.-General on the 1st January 1798, finally to the rank of General in 1803.
In 1806 he was appointed commander-in-chief of the Forces in Ireland; and at the Coronation of King George IV was bearer of the Great Standard.
General The Earl of Harrington was subsequently appointed Captain Governor and Constable of Windsor Castle.
On the 3rd February 1824 his wife Jane Stanhope (nee Fleming) died at St. James's Palace, London.
He died on 5th September 1829 at the age 76.
The children of General Charles Stanhope, 3rd Earl of Harrington and Jane are listed below:
Hon. Charlotte Augusta Stanhope+ d. 15 Feb 1859
Hon. Caroline Anne Stanhope d. 25 Nov 1853
Maj.-Gen. Charles Stanhope, 4th Earl of Harrington+ b. 8 Apr 1780, d. 3 Mar 1851
Maj.-Gen. Hon. Lincoln Edwin Robert Stanhope b. 26 Nov 1781, d. 29 Feb 1840
Hon. Anna Maria Stanhope+ b. 3 Sep 1783, d. 3 Jul 1857
Leicester Fitzgerald Charles Stanhope, 5th Earl of Harrington+ b. 2 Sep 1784, d. 7 Sep 1862
Reverend Hon. FitzRoy Henry Richard Stanhope+ b. 24 Apr 1787, d. 11 Apr 1864
Major Hon. Sir Francis Charles Stanhope+ b. 29 Sep 1788, d. 9 Oct 1862
Reverend Hon. Henry William Stanhope b. 2 Aug 1790, d. 21 Jun 1872
Hon. Augustus Stanhope b. 25 Mar 1794, d. 8 Dec 1831