Lieut.-General William Tryon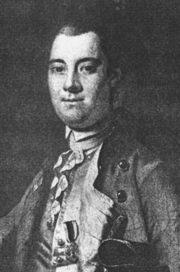 Appointed Colonel of the Regiment on 16th August 1783.
William Tryon was born in 1729 at Norbury Park, Surrey. On the 12th October 1751 he entered the army with a commission as lieutenant in the 1st Regiment of Foot Guards.
On the 9th December 1758 he became a regimental captain with an army rank of Lieutenant-Colonel. In 1757 he had married Margaret Wake, whose connection with Lord Hillsborough probably was responsible for Tryon's appointment as Lieutenant Governor of North Carolina in 1764. After the death of the governor, Tryon was appointed to the position on the 28th March 1765. When he insisted on supporting the British government during the pre-revolutionary Stamp Act controversy, local inhabitants so intimidated him that he suggested the use of British regulars. He successfully negotiated a boundary dispute with the Cherokee Indians, and he was finally able to locate a permanent capital for the colony at New Bern, where "Tryon's Palace" was constructed.
William Tryon was popular in the tidewater area, but in the west the Regulator movement arose over such issues as inadequate currency, unequal taxation, and unhappiness with local officials. Tryon was sympathetic to some Regulator demands and was a personal friend of some of the leaders, but in 1768 he marched the militia to Hillsborough to put down Regulator demonstrations. In 1770 the Regulators arose again and broke up the superior court at Hillsborough, intimidating court officials and lawyers. After the ringleaders were convicted and outlawed, Tryon, in March 1771, led 1100 militia into Regulator country and on The 16the May 1771 inflicted a crushing defeat on 2000 Regulators.
On the 9th July 1771 William Tryon left for New York as he had succeeded Lord Dunmore as governor of that province, and Commander-in-Chief of the Forces there; Colonel in the army on the 25th May 1772, 3rd Major 1st Foot Guards 8th June 1775.
In New York he was faced with the land grant dispute with New Hampshire and difficulties arising out of land purchases from the Mohawk Indians, in which he was personally interested to the extent of 40000 acres. He was recalled to England for an explanation and sailed in April 1774.
Tryon returned to New York 14 months later, after the Revolution had begun. He was forced to remain aboard a ship in New York harbor from October 1775 until the arrival of William Howe's fleet in August 1776. In 1777 he was given permission to command a loyalist force and a year later was promoted to Major-General (1st January 1776) in North America and Colonel of the 70th Foot (14th May 1778). His primary military activity was a series of diversionary raids in Connecticut. In 1780 chronic illness compelled his return to England, where he was promoted to Lieutenant-General in 1782 and colonel of the 29th Foot on 16th August 1783.
He died in London on 27th January 1788.