Badges of the Worcestershire Regiment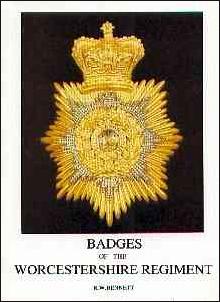 By Roger Wilmot Bennett
Published by R. W. Bennett, Bordon, Hampshire.
Printed by Antony Rowe Ltd., Chippenham.

ISBN 0-9524231-0-3
Published 1994

This book provides a vast amount of information of the badges of The Worcestershire Regiment, not only does it cover badges of the regiment but also gives the reader an insight into the history of this very fine county line regiment, brilliantly written.

This book also provides a brief background to the history of the Worcestershire Regiment and includes details of the Regimental Devices such as The Lion, The Naval Crown, The Garter Star, The Motto 'FIRM', The Tower, The Irish Harp and The Pear Tree.

Much of the material in the book comes from the original research of Major H. P. E. Pereira which he published in the Regimental Magazine 'FIRM' during 1947 and 1948.

The book contains more than 400 badges which include Shako Plates, Helmet Plates, Cap Badges, Collar Badges plus other regimental insignia are identified such as buttons, shoulder titles, belt plates, waist belt clasps and pouch badges, with over 200 illustrated by full size photographs or line drawings.

Privately published, limited.