Historical Record of Third and Fourth Battalions - Worcestershire Regiment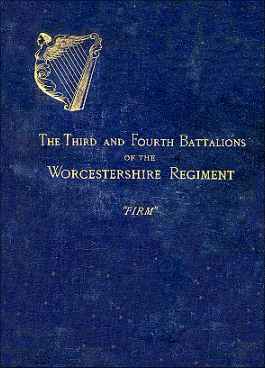 By Captain Robert Holden, A.D.C.
Published by Kegan Paul, trench & Co., London

Published 1887

This book which was published in 1887 (325 pages) provides a full history of the Worcestershire Militia formed by George William the 6th Earl of Coventry in 1770.

At a meeting of the Lord-Lieutenant and Deputy-Lieutenant of the county and city of Worcester, held at Hooper's Coffee House, in Worcester, on the 19th May 1770 it was resolved to immediately raise the regiment, sufficient gentlemen having at last consented to accept commissions.

On the 11th November 1770 the officers of the new Militia battalions dined at Croome Court with the Earl of Coventry to celebrate the formation of the regiment.

Two battalions were raised and later referred to as the 1st and 2nd Battalion Worcestershire Militia. On the 1st May 1881 a general order laid down that territorial regiments would be formed, consisting of Line and Militia Battalions and this was in effect on the 1st July 1881. As a result of these changes the two Militia battalions were renamed the 3rd and 4th Battalion Worcestershire Regiment.

The book provides a historical record from the formation of the Militia to 1886.

These two battalions saw service in Ireland, War with France, War with Russia and the Indian Mutiny. For their services in Ireland in 1798, during the Irish Rebellions, they were both permitted to wear the harp on their colours.

This book also contains a full alphabetical list of all the Officers who had served in the Regiment from 1770 to 1886.
It was on the 17th February 1900, that the Special Army Order was published notifying that two more Regular or Line Battalions of the Worcestershire Regiment were to be raised. The two Militia Battalions, hitherto the 3rd and 4th, were accordingly renumbered the 5th and 6th. In 1908 under the Haldane's scheme they passed from being Militia to being Special Reserve.