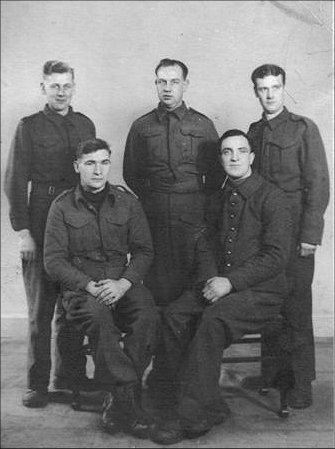 Pte. Frederick Leonard Richardson (4854130)
8th Battalion Worcestershire Regiment, in the centre of back row.
He enlisted 22nd May 1926 joining The Royal Leicestershire Regiment and served in India in peace time.
He was called up again on the 1st September 1939 and joined the 8th Battalion Worcestershire Regiment.
Left for France with B.E.F. on the 4th January 1940. Taken prisoner at CASSEL on 29th May 1940. Some time later 23rd June 1940 arrived at STALAG 8B, LAMSDORF. His P.O.W. records show he worked in a number of work camps, it also records him being given 5 months sentence which he served at a military prison camp at GRAUDENZ. He was on the march from January till April 24th 1945, when he was released by the Americans.
photo submitted by Ken Richardson (his son)