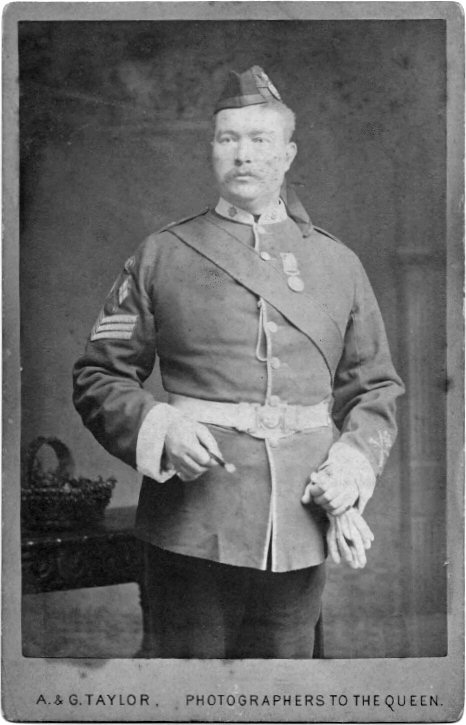 Colour Sergeant James Carroll
photos submitted by Carol Roice (granddaughter)
James Carroll was from Thurles, Co. Tipperary, and enlisted into the British Army at Templemore on the 20th November 1862, giving his age as 18, although birth records suggest he was only 16 at the time. He enlisted in the 1st Battalion 16th Regiment of Foot but transferred to the 36th Foot in 1863, which later became the 2nd Battalion of the Worcestershire Regiment. He retired from the army around 1890 - was still in Norton Barracks in 1891 as "pensioner".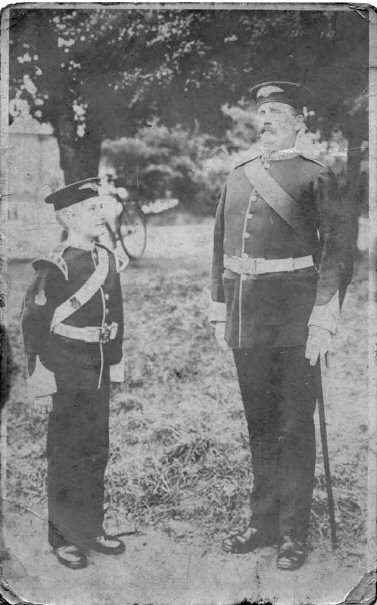 James Carroll (right) with his son Francis Edgar

Francis Edgar was born in Meean Meer in December 1873, enlisted 22nd December 1887 aged 14, just under 5ft.4ins. - ended up 6ft tall! On his attestation papers it states that he was already in the Regiment, difficult to read but looks like "473 Worcs. Regt. S.Co." In the above photo he looks to be about 12 or 13 years old.