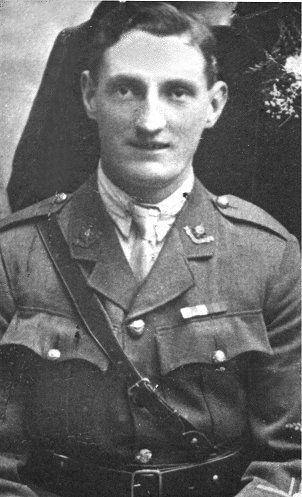 Captain Charles Edward Hackett, M.C., D.C.M., of the 4th Battalion
photo submitted by Gary Ralph (his grandson)
Charles Edward Hackett was awarded the D.C.M. for his gallantry when he assumed command of and let his company during an action at The Transloy Ridges on the 18th October 1916. At the time he held the rank of Sergeant but was acting C.S.M. During this action he captured several prisoners. Shortly, after he was commissioned in the field as an officer and was to be awarded two Military Crosses for his bravery. His first Military Cross was, as a 2/Lieutenant, when during the battle at Arras (14th April 1917) he was responsible for repelling a strong enemy counter-attack, and although wounded he continued to lead his me. His second Military Cross was awarded during a raid on the 8th August 1918, then with the Acting rank of Captain, he rushed an enemy post capturing two prisoners. He then went out again with a small party and brought back 11 prisoners and a machine gun, having killed one enemy with his pistol.