Lieut.-Colonel Percy Roger WHALLEY, D.S.O.
Commanded the 3rd Battalion Worcestershire Regiment from September 1916 to March 1918.
Commanded the 3rd Battalion Worcestershire Regiment from June 1918 to
Commanded the 3rd Battalion Worcestershire Regiment from August 1918 to
Percy Roger Whalley was born in 1881 at South Hook Fort, Herbrandston, Pembrokeshire, son of Major Percy Charles Whalley of the Royal Artillery (South Hook Fort). His mother Florence Mabel Whalley who was born in Tasmania, sadly died at the young age of 38 when Percy Roger Whalley was only 7 years old. Percy had 3 younger sisters, Barbara, Pamela and Cynthia (who was born the year the mother died).

Percy Roger Whalley was educated at Kelly College, Tavistock and at the Royal Military College and was commissioned to the Unattached List as a 2nd Lieutenant on the 8th January 1901. On the 26th April 1902 he was seconded for service to the 2nd Battalion Worcestershire Regiment in South Africa and promoted to rank of Lieutenant. He was awarded the Queen's Medal with 5 clasps.

He served during the Second Boer War with the 2nd Battalion Worcestershire Regiment in operations in the Transvaal in May 1901, and in the Orange Free State, from May 1901 to May 1902. He served as a Railway Staff Officer from 26th November to 21st December 1901, and advanced to the rank of Lieutenant in April 1902. He finally left South Africa in September 1904 with the 2nd Battalion, and continued to serve with them in India.

He was promotted to Captain in March 1909, and served with the 5th (Militia) Battalion Worcestershire Regiment. He was appointed Adjutant of the 1/8th Battalion Worcestershire Regiment in April 1914, and was serving in that capacity at the outbreak of the 1914-18 War. He served with the 1/8th Battalion in the French theatre of war from April 1915.

Lieut.-Col. P. R. Whalley, D.S.O.
He later joined 144th Brigade as Brigade Major and served with 144th Infantry Brigade from October 1915 to March 1916. He then served in the same capacity with 143rd Infantry Brigade from March to September 1916, before being appointed to the command of 3rd Battalion Worcestershire Regiment, with the rank of Acting Lieutenant-Colonel on the 5 September 1916.

He commanded the 3rd Battalion from September 1916 to April 1919, apart from 16th to 22nd September 1918 when he was required to temporarily assume command of the 57th Infantry Brigade. He joined his battalion again when they were in the line at Ovillers, Leipzig Salient and the Thiepval area. In October the battalion moved north, and wintered at Armentieres. He was to distinguish himself during the Capture of Westhoek, Ypres, during 10th to 12th August 1917.

In August 1917 he commanded both the 3rd Battalion Worcesters and the 13th Cheshire Regiment after all their senior commanding officers were wounded, he was awarded the D.S.O. for this action at Westhoek,Ypres in August 1917.

D.S.O. London Gazette 26 September 1917 (details published in London Gazette 9 January 1918):

"'For conspicuous gallantry and devotion to duty. He took charge of a difficult and dangerous situation which had arisen owing to the right flanks of his division being exposed. Quickly grasping the state of affairs, he made excellent dispositions, and refused re-inforcements, although they were offered to him, acting with such determination and good judgement that from the moment he took over this sector there was never any doubt that the position would be maintained."

He was promoted Brevet-Lieut.-Colonel in 1919 for distinguished service in the field. He was twice mentioned in despatches.

After the war Whalley served as Brigade Major, Gloucestershire and Worcestershire Infantry Brigade, Southern Command from April 1920 to March 1922. He advanced to Brevet Lieutenant-Colonel and in November 1923 was posted for service with the 1st Battalion Worcestershire Regiment, at Meerut, India.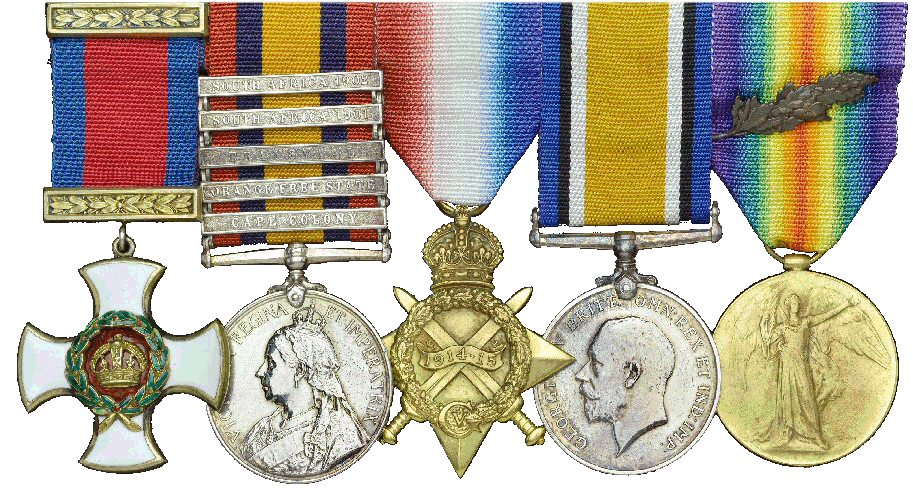 He retired from the army in 1925 and was appointed Lieutenant-Colonel, Reserve of Officers, and served as commanding officer of the 2nd City of London Regiment (The Royal Fusiliers), Territorial Army for four years until May 1930.
In his later years he lived at Hunstmead, Moretonhampstead, Devon, and died at a nursing home in Torquay on the 19th February 1956, age 74. His funeral took place at Torquay Parish Church on 23rd February 1956.