The Regimental Magazine - "The Green 'Un" 1903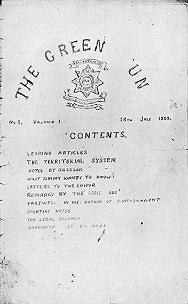 The first (and only) copy of "The Green 'Un" was produced by the 2nd Battalion Worcestershire Regiment at Bloemfontein, South Africa on 18th July 1903.
The Editors were Colour-Sergeant (later Captain) J. Batchelor, Colour-Sergeant (later Major) C. H. Inwood, Colour-Sergeant MacCabe and Sergeant Pritchard (who was later killed in action in France in WW1). The difficulties under which the paper was produced must have been considerable. Captain Batchelor, writing in this connection, says: ". . . There were no typewriters, no typists; it was a struggle to get paper and ink of the same colour and you will notice that the writings are those of more than one person."

The publication, of which the title page is reproduced here (on the right), is of foolscap size and consists of several pages of brightly written matter.
Here are some of the extracts taken from this early forerunner of "Firm."
First (as is only right) from the Editorial:
"It is with great pleasure the first edition of the Green 'Un' is placed in the hands of our readers. We hope to succeed in our objects, which are, to give means of publication to our talented Ode writers, and to afford amusement to members of the Mess generally."
". . . From time to time authentic records of The Worcestershire Regiment will be published and should interest and keep all informed of the traditions and honours of the Regiment."
After informing his readers that the services of "Wee Muckle" (for sporting news) and "Scribus" (for legal matters) have been obtained, the Editor winds up with the inevitable appeal for literary contribution.
The following notes are taken from the equivalent of "Firm's" Regimental Echoes:
"On Wednesday evening all members of the Mess who were able to do so were present to bid Bon Voyage to Captain Wodehouse (later as C.O. of the 1st Battalion, Colonel Wodehouse was killed in 1915 at Neuve Chapelle), prior to his departure for England to take up his duties with the 6th Battalion."
"All present realised that in losing Captain Wodehouse they lost not only a most capable Officer and an enthusiastic cricketer, but one who was ever ready to render assistance to all."


The final "Echo" is sadly prophetic but in exactly twenty years' time a Phoenix was to arise from the Ashes:
"The average age of man has been tolerably well ascertained by the Insurance Offices. The average age of a literary periodical has yet to be discovered, and when found will probably interest the Insurance Offices—very little. What Fire Office could be got to insure it against failure ? What Wind Protection Society against the heavy blasts of public taste ? .... (Here several words are indecipherable.) " The calculations would at all events be different from those connected with Human Life, since the younger the journal the higher would be its premium; the mortality among young periodicals being extreme even to the extent, as has been known in some unhappy cases, of dying before they are born. It is to be hoped that such will not be the fate of the Green 'Un and that he may safely emerge from the maladies peculiar to Infant Literary Life. That he may cut his first tooth and attain an age quite unequalled by any periodical of his class."

* * * * * *
Some things they wanted to know in 1903.
When are we going to get Colonial Allowance ?
When is the Band going to play on the Square on Sundays ? Whether the Non-Corn. who said " Swing the rifle to an 'orrible position paralyzing the shoulder " passed or not ?
When the married people are coming out ?
Tempora Mutantur—but not very much !
There is an effusion "chucked in by the Orfis Boy," and two pages of verse from which we select the following:—

BRODERICK
With blue cold nose and wrinkled brow
"Broderick" ! whence comest thou ?
From England's shores where Kipling roars
Of an absent-minded beggar.
But "Broddy" mine with hair of wine
Art' sorry to leave old Blighty ?
Where women and wine do much incline
To make you feel so flighty.
Not much, old sweat, 'cause you can bet
We'd heard of what you'd done;
And when we saw the latest cap
We thought it time to run.
But this 'ere clime is not so fine
As one would wish't to be;
For there's bags of crime and chloryde o' lime
And that's all as I can see.