1st Battalion Worcestershire Regiment - North West Europe 1944
VERNON - The River Seine Crossing (25th to 28th August 1944) - Part 12
Roll of Honour of Worcestershire Regiment Men
| | | | | | | | |
| --- | --- | --- | --- | --- | --- | --- | --- |
| Surname | Forename/s | Rank | Died | Age | Location | Unit | Grave at |
| Benn | Anthony Alistair | Maj. | 27/08/1944 | | Route de Tilly | Battalion 2 i/c | Vernonnet |
| Miller | Roger Arthur William | Capt. | 28/08/1944 | 23 | Route de Tilly | 'C' Coy 2 i/c | Evreux |
| Hockley | William Henry | Sergt. | 27/08/1944 | 21 | Route de Tilly | Carrier Pl. | Vernonnet |
| Kerrigan | David Hugh | Sergt. | 26/08/1944 | 31 | Route de Magny | 12 pl. 'B' Coy | Bayeux |
| Bratt | William | Cpl. | 28/08/1944 | 27 | Route de Tilly | Anti-Tank Pl. | St. Desir |
| Priest | Douglas William | Cpl. | 27/08/1944 | 19 | Rue Dr Chanoine | 13 Pl. 'C' Coy | Vernonnet |
| Cartwright | Joseph | Pte. | 26/08/1944 | 20 | Route de Magny | 12 Pl. 'B' Coy | Bayeux |
| Cooke | Arthur George | Pte. | 28/08/1944 | 29 | Route de Tilly | - | St. Desir |
| Cox | George Henry | Pte. | 27/08/1944 | 19 | Route de Tilly | 7 Pl. 'A' Coy | Vernonnet |
| Drinkwater | Walter John | Pte. | 27/08/1944 | 33 | Route de Tilly | HQ Coy | Vernonnet |
| Edgington | Wilfred John | Pte. | 27/08/1944 | 23 | Route de Tilly | 7 Pl. 'A' Coy | Vernonnet |
| Everfield | Albert Douglas Edwin | Pte. | 27/08/1944 | 18 | Route de Tilly | 7 Pl. 'A' Coy | Vernonnet |
| Footman | Frederick Benjamin | Pte. | 27/08/1944 | 32 | Route de Magny | 12 Pl. 'B' Coy | Bayeux |
| Golding | Bernard | Pte. | 27/08/1944 | 24 | Route de Tilly | - | Vernonnet |
| Grainger | William | Pte. | 27/08/1944 | 31 | Route de Tilly | Sp Coy | Vernonnet |
| Heaton | Gordon Albert James | Pte. | 27/08/1944 | 21 | Route de Tilly | - | Vernonnet |
| Jones | Ernest | Pte. | 26/08/1944 | 32 | Route de Magny | 12 Pl. 'B' Coy | Bayeux |
| Long | Charles Walter | Pte. | 29/08/1944 | 32 | Route de Tilly | Benn's Batman | Evreux |
| Oakley | Dennis John | Pte. | 27/08/1944 | 19 | Route de Tilly | - | Vernonnet |
| Roper | Ernest | Pte. | 27/08/1944 | 24 | Route de Tilly | - | Vernonnet |
| Salisbury | Ronald | Pte. | 27/08/1944 | 19 | Route de Tilly | - | St. Desir |
| Shepherd | William George | Pte. | 27/08/1944 | 18 | Route de Tilly | - | St. Desir |
| Smith | Bert | Pte. | 27/08/1944 | 34 | Route de Magny | 12 Pl. 'B' Coy | Bayeux |
| Smith | George Allen | Pte. | 27/08/1944 | 32 | Route de Tilly | - | Vernonnet |
| Treadgold | Leonard Horace | Pte. | 27/08/1944 | 19 | Pont de Vernon | 9 Pl. 'A' Coy | Vernon |
| Webb | Ernest | Pte. | 27/08/1944 | 31 | Route de Tilly | 7 Pl. 'A' Coy | Vernonnet |
| Williams | James Henry | Gnr. | 27/08/1944 | 32 | Route de Tilly | - | Vernonnet |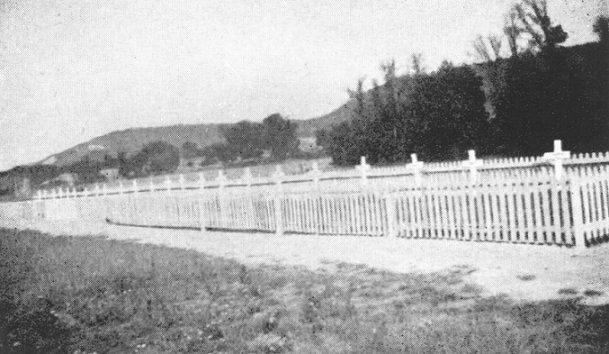 Original Graves of those killed at Vernon (September 1944)

Worcestershire Regiment war graves at Vernon (August 1992)
Vernon (Vernonnet) Communal Cemetery, Eure, France

The grave with the poppy wreath is Major A. A. Benn. On the right is Pte. E. Roper
On the left is the grave of Ida Winifred Benn (mother of Major Benn) the inscription on her grave stone reads:
"Ida Winifred Benn dearly loved wife of Gilbert and mother of Major Anthony A. Benn buried here - God Bless, you baby and make you happy, 1884-1948"