Lieutenant Roland Aubrey Leighton (died of wounds 23rd December 1915)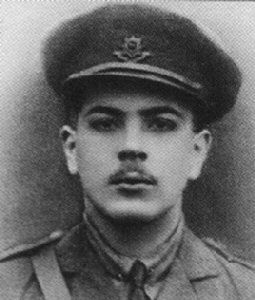 Lieutenant Roland Aubrey LEIGHTON
Born March 1895. Educated: Uppingham School. Won a place at Merton College, Oxford, in January 1914.
At outbreak of war volunteered for service but was rejected due to poor eyesight. Accepted two months later and commissioned in the 4th Battalion Norfolk Regiment. Applied for transfer so as to get sooner to France.
Sent to the 7th Battalion Worcestershire Regiment in March 1915, two weeks before it went to the front. Was in the trenches at Armentieres in April 1915.
While on leave during August 1915 became engaged to Vera Brittain. Upon returning to France, was stationed in trenches near Hebuterne, north of Albert. In October was in billets with battalion at Courcelles. Converted to Catholicism late in 1915. On 22 December was wounded by rifle fire while repairing barbed wire in front of his trenches. Taken to Hospital Clearing Station at Louvencourt, where he died the next day, 23rd December 1915, aged 20. Buried 26th December 1915 in military cemetery at Louvencourt. Vera Brittain received word of his death the next day, 27th December, 1915.