1st Battalion Worcestershire Regiment 1944-45 - Awards and Citations
Private Reginald LUGG (5436899)
Reg Lugg was recommended for an Immediate Military Medal by the Commanding Officer, Lieut.-Col. R. E. Osborne-Smith in October 1944.
Military Medal (London Gazette 1st March 1945)
Citation:
"On the night 24th/25th September 1944, Private LUGG was a member of a Platoon that was detailed to go on detachment from the Company to picket an important cross roads North of ELST. During the night the Platoon engaged parties of Germans withdrawing northwards from the village. A German Tiger Tank supported by Infantry advanced close to the position and engaged the Platoon with shell and machine gun fire. Private LUGG moved forward with the PIAT and with his first shot hit the tank in the turret. This had no effect on the tank so Private LUGG proceeded to fire four more rounds and finally succeeded in destroying the tank. It was largely due to his action that the Platoon position was not overrun and that they did not suffer heavy casualties."
Background:
Reg Lugg was from Reading.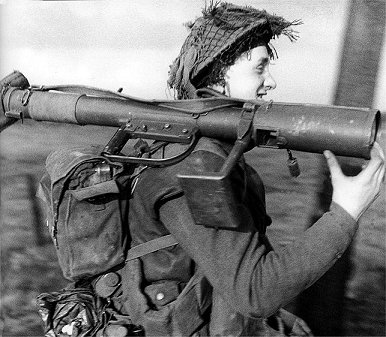 The PIAT (Projector Infantry Anti-tank)