1st Battalion Worcestershire Regiment 1944-45 - Awards and Citations
Sergeant Isaac John GUEST (5258245)
Isaac Guest was recommended for an Immediate Military Medal by the Commanding Officer, Lieut.-Col. R. E. Osborne-Smith in September 1944.
Military Medal (London Gazette 1st March 1945)
Citation:
"In the FORET DE VERNON on 27th August 1944, Sergeant GUEST was NCO commanding a 6 pounder Anti-Tank Gun which was in support of the leading Company of the Battalion in the advance of TILLY. The Company was held up by a well-concealed Machine Gun in the thick country on either side of the road at about 457773 and reports were received of Tiger Tanks. Shortly afterwards parties of enemy began to infiltrate through the woods of the flanks of the Company and a Tiger Tank crept silently round the corner of the road about 300 yards from Sergeant GUEST's gun which was sited in the only possible place on the edge of the road. The tank was immediately engaged and was hit by the first shot. All that could be seen of the tank was the offside track and one third of the hull. Efforts were made by the enemy to evacuate the tank but by firing two rounds of H.E., this was prevented and the tank eventually blew up. By the initiative and clear thinking of Sergeant GUEST in knocking out this tank he materially assisted in restoring a difficult situation. On inspection after the action it was found that the tank was holed in 3 places: twice in the hull and once in the mantlet."
Note: 457773 refers to military map reference used at the time. Click here for more details.
Background:
Isaac Guest was born in Stourbridge on the 14th June 1914.
He married Doris Parry in Stourbridge in 1944, a few months before 'D' Day.

He died in Stourbridge in 1974 (age 59).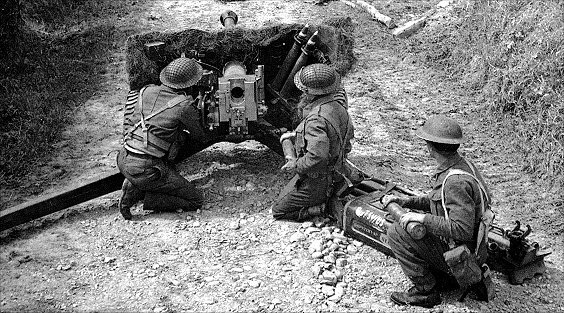 6 pounder Anti-Tank Gun in action